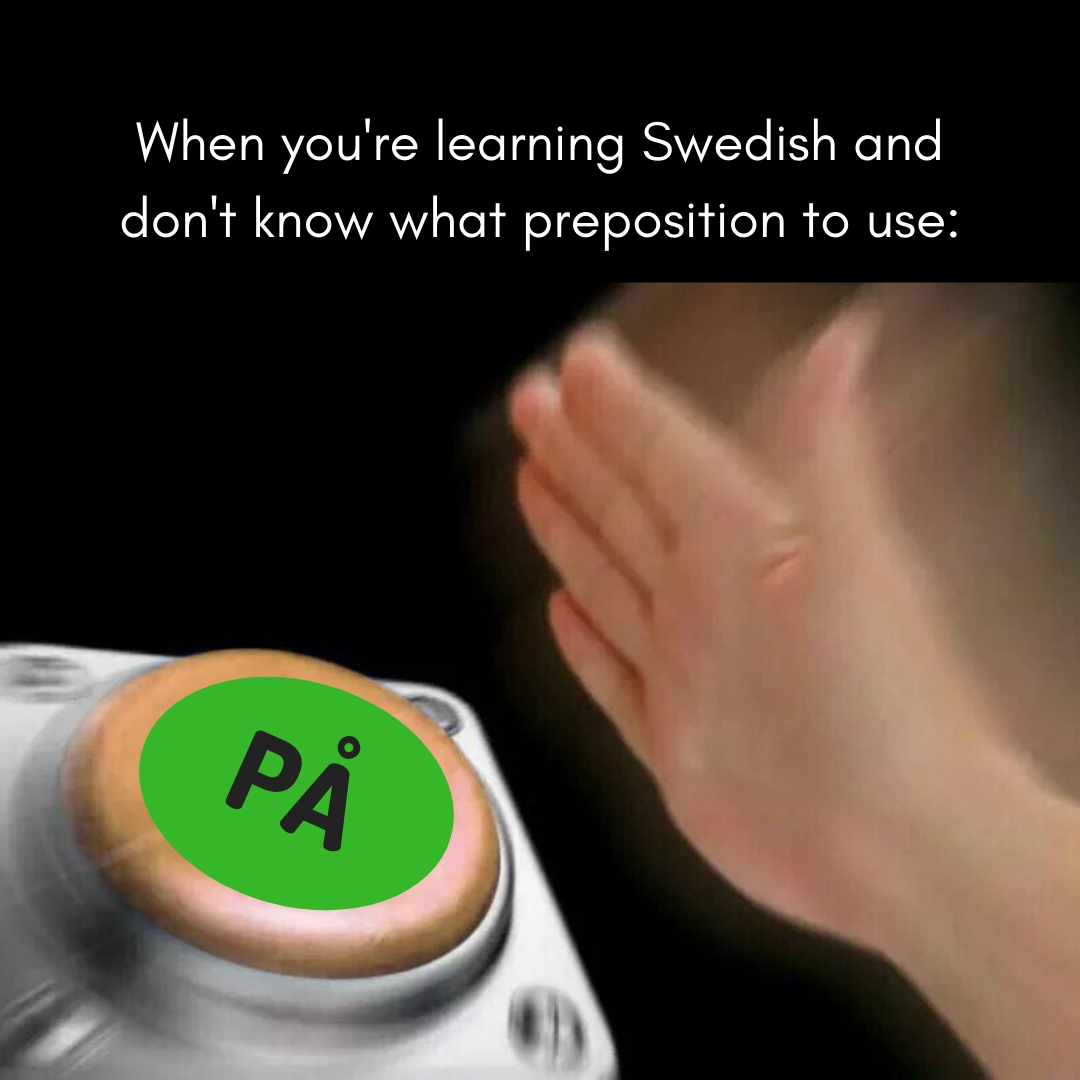 Do you struggle to use the correct preposition when you want to talk about when, how often or how long something is happening?


Do you get your 'i' and 'på' mixed up when you want to say 'on Monday' or 'last Monday' in Swedish?


Do you find Swedish time expressions confusing?


The Swedish Time Expressions Pro course - an online, self-paced video + exercises course - will help you with precisely this!

ARE PREPOSITIONS A PROBLEM FOR YOU?

First of all, let me say: if you find time expressions and prepositions confusing, you are not alone.
When asking students what they struggle most with in terms of their Swedish, almost everyone says the same thing: prepositions.
Interestingly, it doesn't seem to matter if you are a beginner or an advanced speaker.
PREPOSITIONS HAVE MANY MEANINGS
Generally, prepositions can feel tricky. They usually don't have one fixed meaning. A table (bord) is a table and a cup (kopp) is a cup.
But på can mean on, for, at, by, into, onto, of, over, upon... The list goes on. And on top of that, they are not always what you would expect based on other languages.
Time expressions often include prepositions. They are actually quite important to get right!

PREPOSITIONS CAN CREATE CONFUSION
If you mean to say 'last Monday', but instead say 'on Monday', it can get pretty confusing (and you may even miss out on a meeting or some crucial information if you don't understand these phrases correctly).



Many Swedish learners put their energy into learning vocabulary and some of the bigger grammar areas (for example verbs and adjectives). This is natural, and an important area of the Swedish language at the early stages.


But when you want to start developing your Swedish so you can reach a more fluent stage, getting other areas right becomes important.


It is frustrating and de-motivating to feel that you are constantly doubting yourself with prepositions and time expressions. It takes up a lot of mental energy when you speak, listen or write. Especially as we use them so often.


Let's put a stop to that!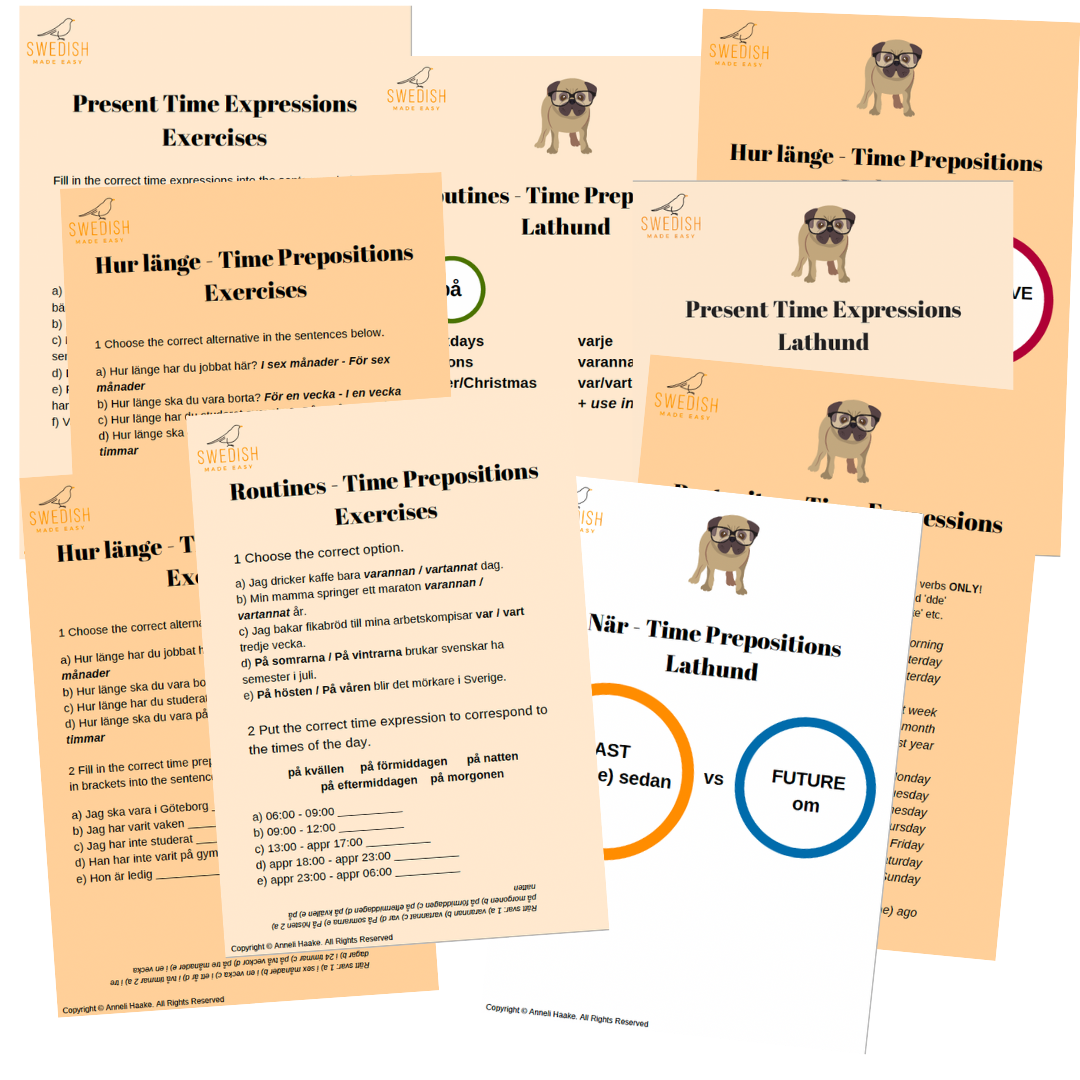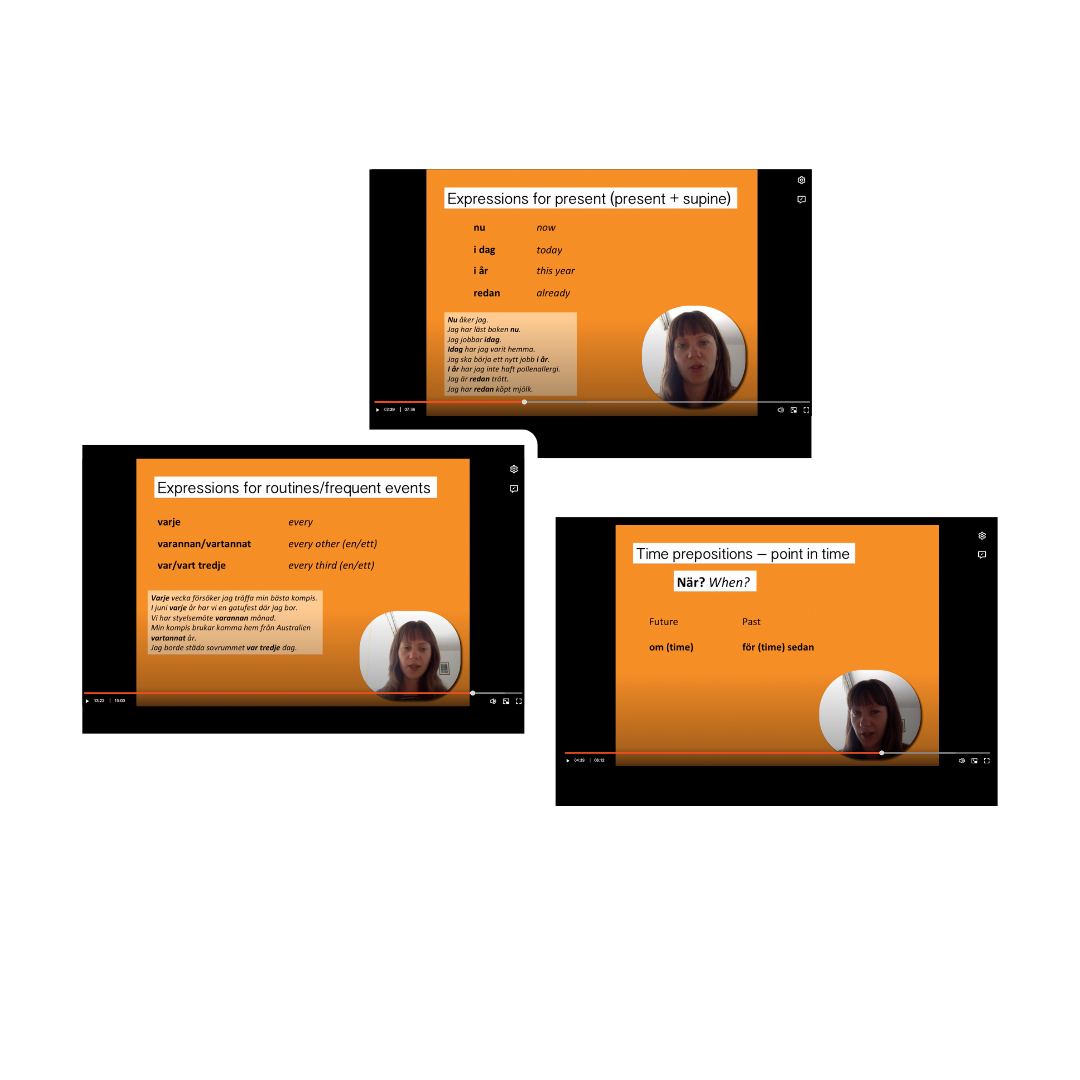 Quizlet sets and Training Programme
How and what you will learn in this course

In this course, you will practice time expressions and prepositions according to category, and in context. This course focuses on learning and memorising time expressions and time prepositions, and also how to pronounce them like Swedes do.



When you have completed this course, you will be able to remember, pronounce and understand Swedish time expressions and time prepositions with confidence.


No more doubting about when you should use 'i', 'på' or 'för'. No more feeling insecure about if it should be 'måndag' or 'måndagen', or 'vecka' or veckan'.
No more guessing.

Who this course is for

This course is suitable for beginners (as long as you have some idea of the different verb tenses, so ideally you should at least have completed level A1).


The most important thing is that you are familiar with these verb tenses: present, past (preteritum), supinum and future expressions (ska, kommer att). If you have not yet studied these verb tenses, this course will not be right for you.


This course is also ideal for intermediate and advanced speakers who feel they often get these prepositions wrong. It's the perfect opportunity to sort your time expressions out, once and for all!

How this course is different to other courses

Other Swedish online courses focus on how to introduce yourself, how to give and understand directions, how to order food in a restaurant, etc. Basically, Swedish for tourists. Swedish language apps present phrases and vocabulary, but they do not explain the grammar.


Therefore, you learn words but don't understand how to put your own sentences together.


This course is different.


This course focuses on a grammar area that most Swedish learners find hard. You will be able to use the expressions and prepositions from this course in your day-to-day life - whether you talk to someone about what happened last week, or what will happen next week/month/year, etc.


You will learn the phrases in context, and the rules work like little "hacks" that you can apply in many different situations. We use these time expressions all the time in Swedish, so they are essential for being able to hold a conversation in Swedish.

How it works


In this course, you will learn time expressions and time prepositions according to categories. This will make it easier for you to manage your learning step-by-step, and it will also make it easier to remember. Explanations in English with Swedish examples and pronunciation guides.
You will get:


*8 modules with time expressions and prepositions according to verb tenses

*access to instructional videos that you can watch while logged in to your course, including specific pronunciation guidance (especially on where we drop letters and merge words together)

*downloadable exercises that you can do to test yourself

*downloadable cheat sheets with rules and expressions for each category

*link and password to Quizlet sets (175 words/phrases in total) where I have recorded audio for time expressions and useful phrases using the time prepositions, so you can practice and really memorise them

*especially designed circuit training programme for your Quizlet sets


You can study completely at your own pace via your computer, watch the videos and do the exercises and Quizlet-sets, and also test yourself to make sure you have memorised everything.


You'll have life -time access to this course, so you can come back to this course and to Quizlet as many times as you like!


Your Swedish Teacher

Anneli is the author of Teach Yourself Complete Swedish and the founder of Swedish Made Easy. She has designed and produced the material for this course.
At Swedish Made Easy, she create online Swedish courses and also offers Swedish lessons online. As a Swedish teacher, she has taught over 20,000 hours since 2005 to adult learners in Europe, Asia and US. 
Over the past 10 years, she has also worked as a translator and also as a subtitler for films and tv-programmes. Moreover, she also works as a language tutor at Middlesex University for their BA Interpreting and Translation students.
In 2019 and 2020, she was the Swedish Teacher in the BBC Two TV-programme Twinstitute.
Anneli is based in Brighton, UK, but was born and bred in Sweden (Stockholm and Dalarna). When she is not teaching Swedish, she boards dogs with her husband in Brighton and helps other language teachers setting up their own businesses.